By Susana
I have a huge pile of bagged and sorted baby clothes occupying space at the foot of my bed -- anyone want them? If I try to put the pile in storage, I find that I only return it to the former spot. I have gone through this collection of Stella's things countless times: resorting, refolding, ummm, redefining which pile is the 'keep' pile and which is the 'try to sell these somewhere' or 'give these away.' I have donated a couple of these bags to the local Goodwill, but for some reason the pile does not get smaller, it stagnates perhaps, but does not lessen in size.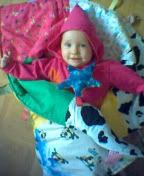 Stella is shown with her Stella-Mat, a handmade mat/lovey designed and created for her by a Canadian Mama and DIY-pro!
I do not plan to have any more babies, but I still feel some kind of responsibility to these little socks and dainty printed dresses, garments and various other sundry acccessories. As if that miniature rainbow-striped sock might somehow still however tangentially retain some aspect of Stella's babyhood.
For a time I had the grandiose idea of making a patchwork quilt out of all of the most adorable pieces. For a time this made the keeping of the pile plausible, but my inability to sew has proved this project unlikely, if not impossible. Sigh.
Am I really done having babies? And if so, why can't let go of all of the previous many-articled remainders? Perhaps if I can make her the dream quilt I will have less reservations about letting go of some early and ever-growing remembrances.
Susana Gardner is a poet, writer and U.S. citizen who is now an expat mama living in Switzerland with her daughter Stella (1.5), Swiss partner Harry, and Alaskan furbaby, Jasper.